The Dog
We've trained our dog Eva, a Lagotto Romangolo, to be a truffle hunting dog, starting in the Western North Carolina region. This year is her first truffle season and we are having so much fun finding truffles together. So far, it has been a beautiful journey filled with learning, sniffing, trusting, and finding.
You can learn more about Eva and her very first truffle here.
The Truffle
The species of truffle Eva has found so far is called the Imaia gigantea. Imaia is pronounced "ee-ma-ee-uh"
This truffle is named after the Japanese mycologist, Sanshi Imai. So far, this truffle has only been found in the Appalachian mountains, and Japan.
Just brought some fresh Truffle home? Learn how to best store it here.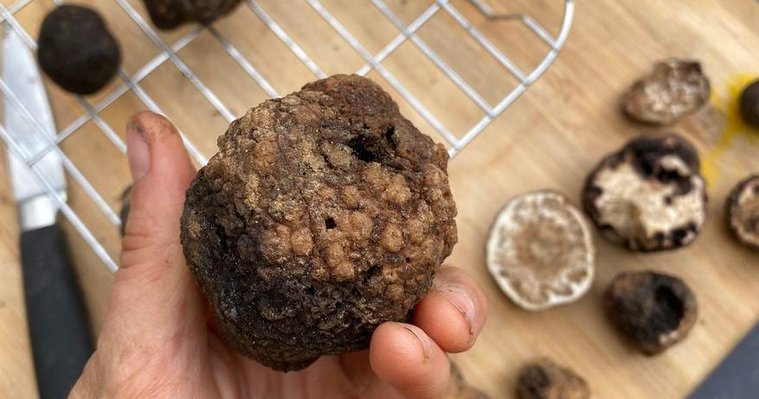 Trying to describe the scent and flavor with words cannot do it justice, but its aroma is intoxicating, soft like moss, yet at the same time, sharp like aged cheese. Our friend Alan Bergo, also known as Forager Chef, gives his assment of the Imaia gigantea here
Asheville local restaurants that are currently supplied with Imaia include - Leo's House of Thirst in West Asheville, Red Fiddle Vittles in Asheville NC, and Ilda in Sylva Nc. We have sent these to a number of east coast chefs and restaurants including The Shack in Staunton, Va, & Field and Main in Marshall, Va.

We are giving priority to chefs within the Appalachian range in an effort to allow the chefs of its native range get first dibs.
If you would like to purchase some of these, we should have them in limited quantities until January or so. Inquire here
If you can't make it to Western North Carolina, you can soon buy our Imaia truffle salt here.
What's Next?
Nobody knows what the next truffle Eva unearths will be, but we are hoping to get down to some hunting grounds in Georgia to score some Tuber lyonii.
We are also excited to hunt the Appalachian Truffle, Tuber canaliculatum - another highly elusive native truffle to the Appalachian mountains.
We are also making truffle history by assisting researchers in cataloguing Imaia gigantea and collecting specimens to document its volatile compounds & DNA sequence in hopes we can learn more about this amazing truffle and potentially learn to cultivate it.

Live in Western NC?
We do not provide truffle hunting tours at this time.
However, if you think you might have truffles on your land, please contact us If you would like for us to survey your property.